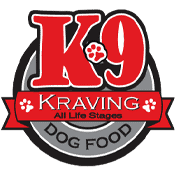 OUR COMPANY
Privately owned and operated since 1932, Boesl Packing Company was the producer of traditional and smoked meats until 2013. Today, Boesl Packing's operations are dedicated to K-9 Kraving Frozen Raw Diet Dog Food, Frozen Raw Dietary Supplements and All-Natural Dried Dog Treats.
OUR BRAND
K-9 Kraving brand was founded by Robert Barrett in 2002. In 2004, K-9 Kraving became a registered product AND the very first pet food brand to become USDA Certified, nationwide. Presently owned and operated by Scott Snyder, we are still privately owned and operated. We source, produce and package under one roof, our roof!
OUR GOALS
From the onset, our goals were to create a Premium Raw Diet Dog Food available at a competitive price —Allowing more canine handlers the ability to feed a raw diet. K-9 Kraving does not utilize fancy adverts, retailer freezer fills, sponsorships or frequent buyer programs. Why? Because those promotions are paid for by end consumers. Instead, we grow by word-of-mouth and social media platforms. The result, "Best Price Daily" for our K-9 Kravers!
OUR PRODUCTS
 K-9 Kraving products are Born, Bred, Raised & Manufactured in the U.S.A.
For the exception of our Wild-Caught Mackerel that is imported from Canadian waters, all our meats, bone, vegetables and supplements are products of the USA!
100% Natural Dried Treats Born, Bred, Raised & Manufactured in the USA. Made with 100% USA Ingredients. Made with Raw Fed Dogs in Mind. K-9 Kraving treats are free of: Preservatives, Processed Meal Ingredients, Dyes, Added Sugars, Cereal Grains, Glutens, Nitrates, Chemicals, Soluble Carbohydrates, Artificial Colors and Flavors